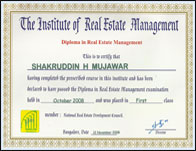 Dream Homes, a promising real estate company located in Pune (Maharashtra) offers realty solutions and services to clients. The company is acknowledged as a reliable Real Estate Consultant, Real Estate Contractor, Interior Designer, Vastu Consultant, Property Loan Consultant and Property Legal Adviser. We also provide Construction Services and Architectural Services to clients.
The company deals in property types that include Residential property, Commercial property, Industrial Property and Agricultural Property. Our focus is on providing unparalleled realty services to clients.
Our team is well equipped and qualified to handle all kinds of realty demands, whether it is a modest real estate investment that a client is interested in or a huge one. Our experts can efficiently handle all kinds of client requirements and even offer services on a tailor made basis to suit the demands of individual clients. We maintain transparency in all our processes and update the clients about the developments on a regular basis.. Read more...